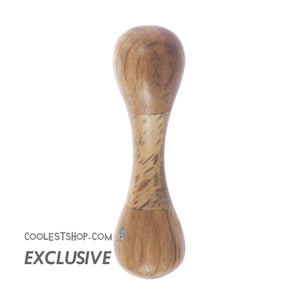 FIDGETSTYX • ARCHIVES • Knuckle Roller • OAK ends w/ Mango Shaft • Lacquered Finish
Regular price $20.00 Sale
We are happy to announce the launch of Fidgetstyx, available exclusively on coolestshop.com. This knuckle roller is made by hand in Kula Hawaii by owner Garth Marriott. All the woods are sourced locally, are recycled, remnants from various sources. 
Through years of woodworking Garth has acquired a vast collection of various woods and has relationships with various high end furniture and art makers on island that are happy to have pother makers time and pillage through their scraps to get them used not just burned in the next camp fire. 
This special one is made from left over oak flooring pieces  from Garth's house and the Mango wood is from a local high end furniture maker.
The oak balls arewell rounded knuckle/molar tooth shaped...they are very well matched.
 This measures 2  3/8" in length and is approx .25 inches in diameter in the smallest part of the shaft. The Oak balls are just under 5/8" in diameter.
Weight is 7 grams. Gosh this one is purdy!
This has been treated with multiple layers of lacquer to give it the most pop on the grains.
**SPECIAL PROMOTIONAL PRICING FOR FIRST BATCH •••
While these are fun for kids of all ages we do not recommend that children under the age of 6 use them unattended as they pose a choking hazard.